[02 June 2017]
MARTY FRIEDMAN – Grammy Nominated Recording Artist, Ambassador to Japan and Undisputed God of Exotic Guitar Returns with "Wall Of Sound"
The eagerly anticipated follow up to his Billboard charting album, Inferno!
Wall Of Sound out August 4, 2017 via Prosthetic Records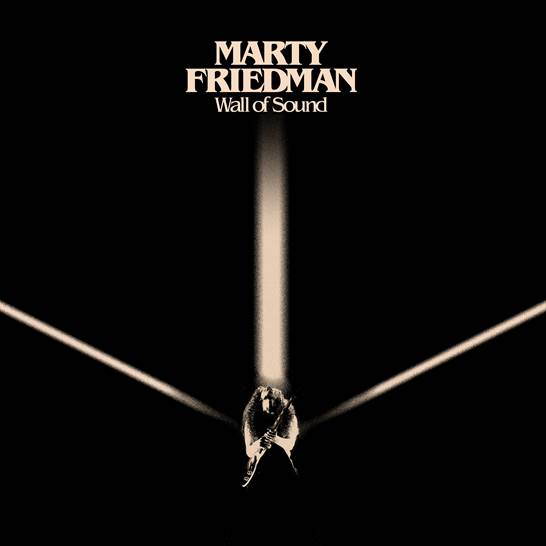 MARTY FRIEDMAN's new album, Wall Of Sound, which will be released on August 4, 2017, expands and destroys any conventional notions of instrumental music. It was produced by Friedman, engineered by Paul Fig (Ghost, Rush, Alice In Chains) and mixed by Jens Bogren (Lamb of God, Opeth). Legendary Queen producer, Mack, came on board to handle the mixing on two tracks, "Streetlight" and "For a Friend", which Friedman proclaimed was, "an honor for me, for sure". The album's first track, "Self-Pollution", can be streamed here: LINK
Regarding the writing and recording process on Wall Of Sound, Friedman responded with this, "It`s a challenge to evolve album after album, especially on your 13th solo album. Not only as a songwriter but it is imperative to do new things on my instrument as well. Luckily this is a challenge that I love. You will find this hard to believe when you hear the density and sheer amount of guitar coming at you from all directions, but in fact all of the final guitar tracks on Wall Of Sound were done in 9 days."
He continues, "This furious and productive pace was made possible by over a year of making demo after demo and spending more time listening and living with the music rather than just playing it. I had lived with the songs for so long and edited and re-cut them so many times, that by the time I got to the actual recording studio, it was like I had been playing the whole album on tour for a year already. I learned to do this from making Inferno."
"This is why a lot of artists` debut albums are so strong-because they have had so much time to reflect on and fix the music, and also more importantly, attach real life experiences to the songs. I feel like I have a debut album here."
Once again, Friedman assembled an incredible and diverse group of musicians to record and guest on Wall Of Sound. His core recording band is made up of Anup Sastry, a modern whiz kid sharing drum duties with uber-veteran Gregg Bissonette, and Japanese bassist Kiyoshi who is undisputedly the most aggressive female bassist on earth. Guests include Jinxx of Black Veil Brides and Shiv Mehra of Deafheaven, and Jorgen Munkeby of Shining lends his voice to the only non-instrumental track on the album.
MARTY FRIEDMAN comments on the guests: "Jinxx from Black Veil Brides and I wanted to do something that would shock his fans and my fans. I arranged a monster of a tune called "Sorrow & Madness" based on a melody that Jinxx wrote on the violin. I took his sweet melody and added so many twists and turns that it became a mammoth of Martyisms in tandem with a large side of Jinxx that has yet to be heard by his fans. We are both very proud of what happened."
"I think Deafheaven is the one truly heavy band that comes to mind when people ask me to recommend something that`s not Japanese! I was super excited to work with Shiv from Deafheaven. We wrote "Pussy Ghost" together and it is one of the most aggressive songs I have ever played, while at the same time evoking grotesquely beautiful moods that I have never felt before. One thing I learned from making Inferno is that when you have a guest, let them come up with music first. Let it be their baby, so they are personally invested in the song. Then arrange it and do it my way, then add more things together. This gives you a final song that really sounds like both of the people put their heart and souls into the music, as opposed to one guy doing everything and the guest just blasting out a solo somewhere."
"Jorgen from Shining also guested on Inferno and when we finished that song we immediately started talking about what we would do next. For those who don`t know Inferno, they are like a steroid-ed out and "genius-level musician-ed out" version of Nine Inch Nails for the 21st century, with a charismatic singer/composer (Jorgen) and a wicked sense of melody, that hits me in the gut on every song. "(Just Gimme) Something To Fight" is the one vocal track on the record and it kills. Even after finishing this song we have started working on more new things for who knows what..."
Wall Of Sound track listing:
Self-Pollution
Sorrow and Madness (featuring Jinxx of Black Veil Brides)
Streetlight
Whiteworm
For A Friend
Pussy Ghost (featuring Shiv Mehra of Deafheaven)
The Blackest Rose
Something to Fight (featuring Jorgen Munkeby of Shining)
The Soldier
Miracle
Last Lament
Wall Of Sound is available for pre-orders starting today here: http://smarturl.it/MartyFriedman on all digital platforms, compact disc and comes in five limited edition LP color variants:
White Black Swirl LP – 300 Worldwide
Clear Black Smoke LP – 100 Worldwide
Glow in The Dark LP – 100 Worldwide
Clear Black Swirl LP – European retail exclusive, 100 Europe only
White LP – US indie retail exclusive, 200 US only
All preorders come with a laminate good for 1 VIP meet and greet to Friedman's 2017 US tour. Keep an eye on www.martyfriedman.com for a tour announcement and when the dates are posted, email martyvip@prostheticrecords.com with your order number and what date you would like to attend.
About MARTY FRIEDMAN:
MARTY FRIEDMAN released his first solo album, Dragon's Kiss, on the influential Shrapnel Records. His tenure with Cacophony and Megadeth have created some of the most memorable music and jaw dropping guitar solos ever heard. He's received gold and platinum awards from throughout the globe and continually pushes the boundaries of music. Fluent in Japanese, Friedman currently resides in Japan where he is a fixture on Japanese television and was recently appointed a Japanese Heritage Ambassador to promote the countries upcoming Olympic games.
MARTY FRIEDMAN Online: www.martyfriedman.com | www.facebook.com/martyfriedman.official

Marty Friedman began his career as a Shrapnel solo recording artist and later joined forces with Jason Becker to form the unrivaled dual guitar unit, "Cacophony", who have a strong influence on today's top guitarists. Amassing worldwide acclaim as a guitar superstar, he came to the attention of Megadeth. Racking up sales of over 10 million records with Megadeth, Friedman continued to record solo records, often embarking on adventurous musical forays far removed from his work with Megadeth, including an album with Golden Globe winner Kitaro.
In a bold move, he left the legendary Megadeth to pursue new musical goals and has succeeded tremendously. Friedman's many accomplishments make him currently the only musician to be a fixture in the top class of the Japanese domestic as well as international music scene.
His music performance (songs from "LOUDSPEAKER") on national TV with the Tokyo Philharmonic Orchestra, and charting high with his own music and with Japan's top artists, has spurred Friedman into new celebrity territory.
Now residing in Tokyo, Friedman has become a television celebrity appearing as a regular on 5 major networks, he can be seen on mainstream hit TV programs almost every day in Japan.
His latest offering, "LOUDSPEAKER" is exactly the kind of record that Friedman fans have been waiting for. While aggressively breaking through cutting edge uncharted musical territory still in spots it is reminiscent in style of his first solo record "Dragon's Kiss."

Before joining Megadeth in Feb.1990, Marty was in a band called Cacophony, which released 2 albums (among their indie label's highest selling) and toured the U.S. and Japan. This band highlighted the potent guitar playing of Marty and fellow guitarist Jason Becker (who was to join David Lee Roth's band and record an album with him in 1990). Marty has received extremely high acclaim and many awards around the world for his unmistakably `Marty-esque` way of playing the guitar.

Marty is from Washington D.C. originally but has lived in many places including Hawaii, Germany and California, giving him an odd and interesting approach to making his music. He currently resides in Tokyo
CAREER POINTS

Received 27 gold and platinum records from around the world
Received 5 Grammy nominations
Headlined 'Rock in Rio' in front of 140,000 in Brazil
Sold out Madison Square Garden (along with many other venues) on the 'Clash of the Titans' Tour
Co-produced his 2nd solo album,' Scenes', with Golden Globe award winner Kitaro
Megadeth's 'Countdown to Extinction' debuts at #2 and reaches double platinum in the U.S.
Countless worldwide TV performances including Britain's "Top of the Pops", live TV on Arsenio Hall (twice), David Letterman (twice), Jon Stewart show, many MTV and VH1 specials,
Japan`s most popular daytime TV show, `Waratte Iitomo` as well as `Love Love Aishiteiru`, 'Music Fair', 'Pop Jam' and 'Yume no Ongakukan'.
Megadeth does a sold out stadium tour of Europe with Metallica
'Youthanasia' is the band's best seller worldwide and the tour was a huge success, extending to new territory like Tel Aviv and Prague
Receives first 'solo' major label deal (with EMI Japan) for his solo album,' True Obsessions'.
3 top ten radio singles for Megadeth in 1997-98. 2 more in '99
Headlined Woodstock 1999 (third night)
Forms new band in 2000, "Red Dye #2"creating a buzz at HITS magazine and selling out the Viper Room in LA
Produced Japanese pop singer Angelina Esparza`s debut demo leading to signing a contract with Columbia Records
Marty makes a yearly appearance at National Guitar Workshop in the US, and is also preparing to do an all-country tour of the campuses of MI Japan in March `03.
A 2003 tour of the US which included ex-Megadeth member Jimmy DeGrasso and guitar wiz Ron Jarzombek marked the first time ever that Marty`s solo music was played live.

Marty produced, engineered, wrote and played guitar on his most anticipated solo album yet, `Music For Speeding` which is receiving outstanding initial reviews
His latest promo of Japan featured Marty playing guitar live on a media blitzkrieg of nationwide broadcasts as well as enthralling the listeners with the unusual outlook of an American rock and roll guitarist; spoken in their mother tongue by the man himself-not by a translator.
Marty is currently in the band of Japanese mega-star Aikawa Nanase. Aikawa will continue to tour Japan throughout 2005 with Marty and you can expect something special for the new year...
FACT

Marty speaks Japanese well and when in Japan, does all of his TV and radio interviews in fluent Japanese.

In September, 2000 he hosted a documentary about the Kiss farewell tour on NHK, (a major Japanese network similar to America's PBS) .

The first major concert Marty did was with his group,' Hawaii' at the Blaisdell Arena in Honolulu,HI. supporting Deep Purple.

Marty has around 25 guitars in his collection, the majority of them being variations of his signature series (Jackson KE-1 Marty Friedman model) guitar.

Prior to joining Megadeth, Marty produced a handful of albums for indie labels, some of which to lead to major label releases. He has also produced or co-produced all of his solo albums.

In his spare time on the road, Marty likes to give music seminars or sit in and jam with the local bands at clubs around the country.

When at home off the road, he often plays the national anthem at Phoenix hockey games.

A major Elvis fan, Marty has collected Elvis stuff since elementary school.

In 2001 Marty played all the lead guitar on "Explorers Club 2" with Terry Bozzio

Marty played lead guitar as a guest on the major label debut (indie debut sold double platinum) of "Mr. Orange", a wildly popular band in Japan.

Besides the arduous task of creating `Music For Speeding` Marty has laid down tracks for ESPN, a NYC charity album, as well as 2 tribute albums to his pal Jason Becker.

2003-

Marty put together a stellar band for his US tour to promote his solo album, "Music For Speeding".

Arranged 3 songs and played guitar for Sera Masanori's "Twist Songs" album released on Columbia Records on 9/25.
Marty also performed with Sera at the Festival Hall in Osaka as well as the legendary Budokan in Tokyo on 10/8.

Marty appeared on NHK with Sera and Ayumi Hamasaki's guitarist Yoshio Nomura.

Fuji Television will broadcast Marty and Sera on 10/12 on the prime time program "Mina ga utaeru super hit" "Super Hits everyone can sing"

Performed 2 songs from his solo album live for nationwide broadcast on Sky Perfect TV's "Party Dude!" program.

2 page spread and interview in Sony UV magazine. (issue 94 released 9/25)

Constant coverage in Young Guitar, Player and Guitar from Japan as well as Guitar World and Guitar Player from the US.

Marty recorded with Aikawa Nanase on her upcoming single, "Ai no Uta"

A popular Nissan Commercial for the new X-trail was recorded by Marty in Tokyo.

Marty also did guest guitar work on a track for Avex band "03" for an album saluting the legendary Gedo which will be released on Sony.

After over 1000 shows worldwide Marty finally played at Budokan on Oct. 8th!

Marty has inked an endorsement deal with Ibanez guitars who in turn are sending him around the world to play their guitars and promote his album, "Music for Speeding". Ibanez is launching an ad campaign in the US featuring Marty and his new "SZ" guitar.

An attendance record breaking guitar clinic/mini-live promotional tour of China, Taiwan and Hong Kong took place in October. Winter '03/'04 had similar events in Thailand, Peru, Argentina, Chile and Brazil bringing in bigger attendance than during his tenure in Megadeth.

Marty apprears on Fuji TV's "Music Fair" on 11/22.

Aikawa Nanase's New Year's concert at Nagashima brings in 30,000 in attendance.

Marty records Aikawa Nanase's single "Ai No Uta" which charted on Japan's Oricon chart. It was Marty's first recording on a J-pop single.

Intent on making his mark on the Japanese music world, Marty has spent much of 2003 being involved in extensive music work in Japan, from guitar playing to producing, songwriting, arranging and live concerts, all leading towards some very special music from Marty in 2004.

In 2004 Marty did Aikawa Nanase's two major tours, "THE GIG '04" (which featured guest superstar Yumi from "Puffy" and the "LIVE EMOTION '04" tour which spawned a hit live DVD filmed in Kobe, Japan.

Marty also inked an endorsement deal with Ovation Acoustic Guitars. He debuted these guitars at the Aikawa Nanase unplugged concert in November. (to be released on dvd in '05)

Marty also released "99 Secret Lead Guitar Phrases", which critics have called 'possibly the most useful instructional DVD ever made'.

Along with lots of radio, TV and magazine work, Marty did many solo concerts as well as more shows with Japanese household name singer/actor Sera Masanori.

2005 has Marty's new song "Street Demon" to be released on Avex in March, music for Sony Playstation's hit game Formula One 2005, lots of TV appearances, radio, live concerts and a long awaited new solo album and tour.

Marty currently appears every week on the hit TV show `Hebimetasan`, every Tuesday on Tokyo Television. The show is ranked #7 in the top 100 rankings.

After one year of starring on the weekly "Rock Fujiyama" and accompanying "Gyao Fujiyama" Marty is a constant guest on several top rated TV programs in Japan.

Marty has been featured in all major newspapers, Playboy, and there are full features on Marty in 4 major mainstream magazines magazines every month. His extremely popular features can be seen every single day at any newsstand in Japan.

His successful European trek for "LOUDSPEAKER" was recorded and was released on the CD "Exhibit A-Live in Europe". The show in Tokyo was filmed as well and was released as "Exhibit B-Live in Japan"on DVD.

Along with his several high rated TV programs, Marty`s recent appearance at the 2008/2009 Kouhaku New Years special and his appearance at Budokan has started 09 off with a bang.
Three performance (original songs from "LOUDSPEAKER", Rachmaninoff and Bach) on national TV with the Tokyo Philharmonic Orchestra, and charting high with his own music and with Japan's top artists, has spurred Friedman into new celebrity territory.

Now residing in Tokyo, having appeared on well over 300 TV programs Friedman has become a staple on mainstream media in Japan.

His list of accomplishments in Japan is quite long, including being the first and only foreign musician to play the Japanese National Anthem at a major sporting event. (Twice at Formula 1 races)

After writing two bestsellers in Japanese, collaborating with several top Japanese artists, and a stadium/dome tour of Asia and appearing in two major Japanese motion pictures, he released two cover albums, Future Addict and Tokyo Jukebox, followed by an all original Japanese release is "Bad D.N.A." which came out on 8/25 2010.
He is currently in the center of the ad campaign for FANTA, where he can be seen in the FANTA band in their television commercial and on billboards all over Japan.
He has put together a stellar band of Japanese musicians with whom he did a 22 country solo tour of Europe in 2011. His 11th and latest solo album, "Tokyo Jukebox 2" was released on 9/14/2011 by Avex in Japan